The shooting school provides clay shooting instruction for both game and competition within their outstanding facilities. With an extensive range of targets, it is an ideal destination, for all abilities of clay shooting, to visit. Honesberie also hold corporate days for team building exercises, with a conference room and catering facilities onsite enabling them to provide each visitor with an unforgettable experience.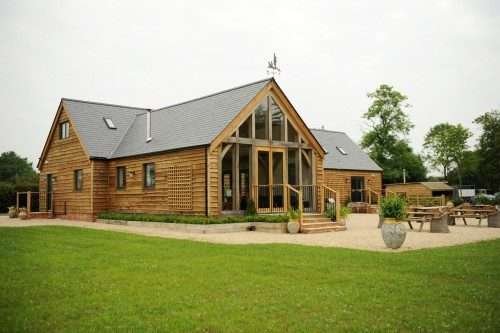 An idyllic establishment, it really is a perfect place to show a small snippet of our handcrafted British sculptures. Currently on show at Honesberie is our Horseshoe Bellowing Stag who sits alongside the private lake nestled inside the shooting ground, our 1.5m Verdigris and Gold Sphere Sculpture takes prime location outside the lodge among the seating area and our watchful Stag looks across from the woodlands towards the clubhouse.
The Verdigris and Gold Sphere Sculpture is illuminated during the dimming evenings of autumn & early winter, so it can be enjoyed by all, especially following a corporate or social event at the ground. Our sculptures truly compliment the idyllic scenery, giving each visitor a glimpse at the effect they can achieve within their own gardens, grounds or outdoor spaces.
We can create bespoke handmade sculptures to suit a variety of indoor and outdoor environments. Whether you are looking for an abstract simplistic sculpture, to a realistic wildlife sculpture, our aim and enthusiasm is to empower your garden or area to complement its surroundings. We work closely with the team at Honesberie Shooting School to provide all clients with a trustworthy professional opinion on an appropriate sculpture and design.
Working with other British based brands and companies is very important to us at Elliott of London. All our sculptures are handcrafted in our rural studio on the borders of Hertfordshire and Buckinghamshire. Each sculpture is individually designed and crafted by British Sculptor Charles Elliott, who works closely with his team to achieve an effective sculpture to a high specification of finish.
Our sculptures are all available to view around the grounds and appointments can be made to visit them onsite at our studio, where you can see the design and sculpting process which goes into each sculpture. All enquiries to buy our sculptures are welcomed via Honesberie Shooting School.
We now also provide our corporate clients options to lease and hire our sculptures to have on show around offices, at trade shows and to create a rememberable impact when needed.
All lease and hire options can be catered to suit all budgets and time frames. We also have an option for sculptures to be swapped and rotated with our other sculptures regularly to enable a fresh and up to date look and feel.
Find out more about events and shooting at Honesberie Shooting School – 01327 262 922 – www.honesberieshooting.co.uk
All Sculpture enquiries welcome through Honesberie or online – Elliott of London British Sculpture – 01494 758 896 – www.elliottoflondon.co.uk